There are so many websites and APPS to choose from (Over 53 APPS I Counted) when looking to buy a home. There really is an app for that; and not just one. You could end up with multiple apps when looking for your dream home. So, how do I know which one is the best to use? Take it from me a former website designer for realtor.com® and a current "Buyer" there's not one I haven't tried. As a matter of fact, I have 5 apps on my phone right now. You may think I would be biased toward realtor.com® as I literally grew up in this industry developing websites for Realtors® in the early days of the internet. I'm a dinosaur, a rare commodity, a hybrid of real estate technology if you will and I feel confident that I can evaluate the main home buying sites with YOUR buyer in mind. After all, it's what I'm trained to do!

Let's start by tackling the major players; Zillow and realtor.com®. It is no secret that these two are at war with each other and each one proclaims to be "THE BEST". They each have their strengths and weaknesses; but what about the "New Guy" Redfin? Let's take this one at a time and I'll tell you honestly which app I feel is the best and most reliable source of information. I would still use a Realtor® when it comes to actually viewing, writing an offer, negotiating the terms of the deal, and throughout the buying process. These online sites and APPS are a great tool to use to get an idea of what you want, what you can afford, and I highly recommend using them in conjunction with a Realtor® so you both know what you want and can communicate that easily with one another. Plus, it saves you time and it saves your Realtor® time. I always save my list of favorite homes and then take the weekend to go for a drive and look at it through my windshield. I can tell just by the outside and location if this is a house, I am truly interested in seeing further, and if not, I un-heart it on my saved homes list and move on to the next one.
I want to note that everything listed in blue for realtor.com® is functionality that is available in the other apps reviewed below. We are going to focus on what is different and who has the better functionality for the purpose of this article.
realtor.com®
realtor.com® has the backing of the National Association of Realtors® and you're thinking what does that have to do with the price of tea in china? Let me explain, realtor.com® was developed to provide consumers a single online source of all listings, and for all Realtors® to have a resource developed for the NAR by the NAR. It was built with the idea of bridging the gap between buyers and agents. It also gave an online platform for Realtors® to promote their listings and personal websites through featured properties and ad space for their websites. Not much of that has changed over the years, except that other giants have entered the online real estate marketplace. Ahem, Zillow.
realtor.com® allows you to *customize your search using filters, you can *view crime in the neighborhood with a heat map, shows if any *open houses are scheduled on the property you are looking at, gives you a *monthly cost estimate, easily allows you to adjust the mortgage calculator for your own personal circumstances. Includes PMI (Private Mortgage Insurance) if less than a 20% down, gives you a place to check rates, get pre-approved, schedule a moving company and get up to 4 Free Moving Quotes, *Nearby School Details, *Property Value History, *Price History, *Tax History, and gives you the Median prices of homes for sale in that area, Median price per Square Foot, and Median Days on the market. There is also the section below the listing that sometimes gets missed and that is the Similar Homes for Sale that includes thumbnail pictures of homes with a comparative snap shot. This is information that could be key to your ability to negotiate or a signal that you better come in with an offer that's hot! Houses in this area don't last long!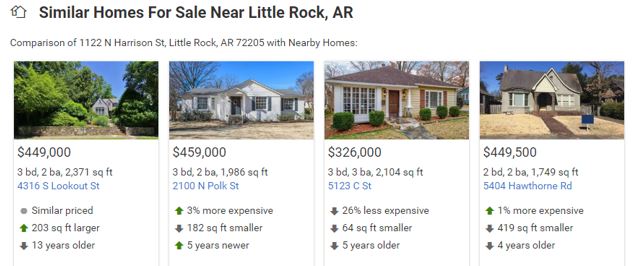 One thing that is important to me and to my wife is our *commute time. I'm looking at buying a home and I want to know an approximate amount of time it is going to take me to get to and from work. When Friday at 5:00 rolls around; how long is it going to take me to get home to my wife and fur-babies and kick off my shoes? So, I love being able to plug in my work address and my spouse's work address and get an approximate commute time. Now, depending on which direction I am heading it could be an additional 45 minutes for traffic; but I get a ball park snap shot of my drive. You will notice the two different colors with the Feature Key Low to High which denotes the *statistical reported crime data for that area aka as a Heat Map.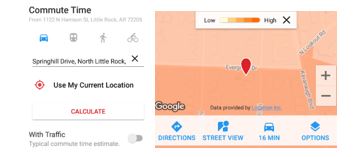 This example show's my wife's commute would be an estimated 16 minutes. I love this feature, but the only draw back is that I have to enter in the address for each listing it doesn't save her work address. I also have to run a separate calculation to see my estimated commute. It's not terrible; but not as efficient as it could be.
That is all the wonderful perks that realtor.com® has to offer a buyer.
Zillow and Trulia
Zillow does everything else that realtor.com® does in the ways of the information provided, the layout is different and in order to see the other features active on your listings page you will need to go and customize your filters based on what is important to you. For me, again the commute is my big issue and there's not a clickable way to see that from the listing. Instead, I must go into the filter and enter the destination and search properties. This does me absolutely no good because it doesn't consider my wife's destination or "drive time". I would have to go back and re-enter the filter with her destination and then search properties, again. It is saved once you set it up in your settings; so you don't have to change or input the information in each listing you look at unlike realtor.com®. However, you would need to change it each time you looked at a different commute location.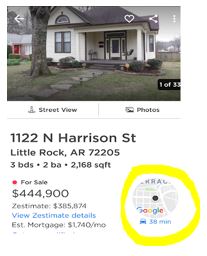 A lot of people like the view of the listings showing up on the map and then you can click on the red pin that you are interested in to view the listing. I have often run into a situation where I keep clicking on the same property, that same red pin I just viewed trying to see the next one. Since they are so close together and there's not a list view readily available; this makes this feature a hassle more than a help in my opinion. Especially when other apps have both the list view and the map view, and you can toggle back and forth between them. It blows my mind that Zillow doesn't offer this feature especially since they acquired Trulia and Trulia has both the map and list view feature. There are a few differences between Zillow and Trulia and since Trulia was acquired by Zillow Group; it's not necessary to evaluate them both. Trulia has the list view along with the map view and Zillow has the map view with Zestimates. Trulia does have the crime heat map overlay that you can turn on to see a high level view of reported crimes in the area, same as realtor.com®. Their colors are denoted in hues of blue with the public crime data for that area listed below. You can share your favorites with friends via email or on social media with both. Other than layout, branding, and color scheme those are the glaring differences between the two.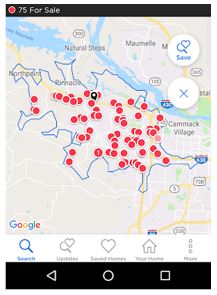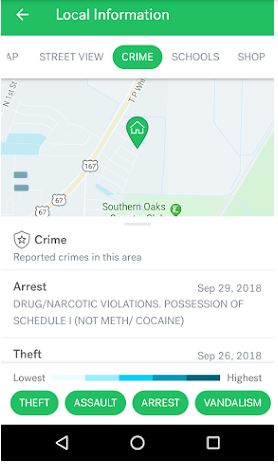 Zillow and I have a love-hate relationship. I'll tell you why in one word; Zestimates. Yes, Zestimates that are completely inaccurate and tell home owners that their house is worth 3 times its actual value. Why are they so inaccurate? They are inaccurate because they take the property type, location, taxes, public and user submitted data and use a computed proprietary formula to give homes an estimated value. It is NOT an Appraisal. I repeat, it is NOT an Appraisal. If you want to find out what your home is truly worth have a professional provide you with a comparative market analysis. Please Don't Rely on The ZESTIMATE BOT!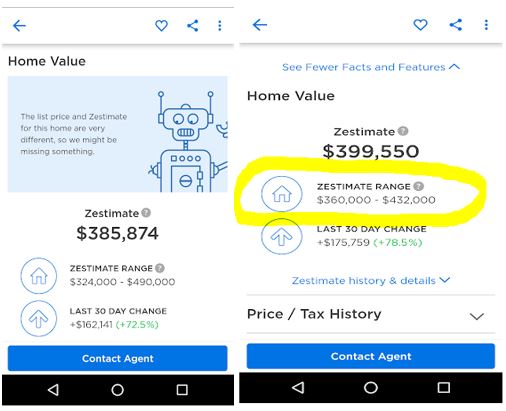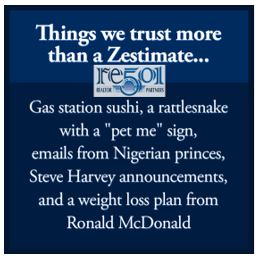 The second thing that gives me heartburn is finding a home, showing it to my wife, both of us falling in love with it only to go to a different site (not naming names) and finding out that home is already under contract. There is a Contingent on the sale of that home now. realtor.com® allows you to filter out homes that are under contract from your search. Even if you don't filter them out, they give you a Highlighted Red Banner across the listing letting you know this listing is Contingent. Heart break and disappointment averted. Zillow is chocked full of listings that may or may not be available such as their Make Me Move® Listings in which a seller can put their home on Zillow with 0 commitment to actually sell the home. This is for home owners that might be thinking about moving some day if the price is right! They put their house on Zillow with a price that they might actually consider selling their house should a buyer contact them. It's important to understand that NOT every property you see on Zillow is actually for sale and you are not looking at the most current information regarding the property itself. Yes, Zillow is the number 1 downloaded home search site APP; but Zillow paid a lot of money for brand recognition and ads to achieve that spot. It reminds me of the old proverb, "All that Glitters is Not Gold" meaning that not everything that looks precious or true turns out to be so.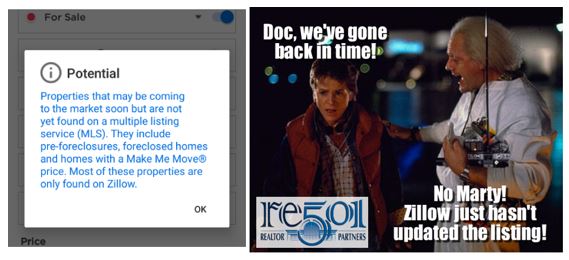 Again, it goes back to what you are comfortable with as a buyer and ultimately a user or as I like to call myself an internet savvy shopper. When it comes down to it there are some big glaring differences: realtor.com's accuracy and Zillow's inaccuracy with their use of Zillow Market Estimates (Zestimates) and including other listing sources such as "FSBO" For Sale by Owners which for those buyers that want to include FSBO's; that's not necessarily a bad thing. However, realtor.com® is still the most accurate reflecting the MLS listings which are updated every 15 minutes including status changes.
Redfin
New kid on the block Redfin also has the MLS Listings feed and their status changes are also updated every 15-30 minutes. Redfin has some really cool features that impressed me as a buyer and as a techie. Hands down the most ROBUST USER FRIENDLY APP out there to date! Disclaimer >>>I do want to let you know that Redfin is a discount brokerage and with that comes some limitations with the functionality of scheduling a home tour. Their agents or Partner Agents offer to "show" you a home and schedule tours right on the APP. Not all homes will have this option as there may not be an agent available to show that home because it is supported by a certain Price Point and availability of their agents or partner agents. Don't think that you can use your own Buyer Agent from another brokerage and schedule a tour of a home on their APP. They will have you use one of their Redfin Agents or a Partner Agent. So, Don't Forget your Exclusive Buyer Agency Agreement you have with your Buyer's Agent! BTW: Don't fear I have a work around for that! I have completely got you covered!!!
Now, on to the cool features you will WANT to use. Redfin allows you to pull more than one region into a search and save that search. This is a huge time saver if you are looking at multiple areas like Bryant, Cabot, Sherwood, and Jacksonville. I now have one saved search with filters for the properties I wish to view in all these regions instead of 4 different saved searches in realtor.com®, Zillow, and Trulia.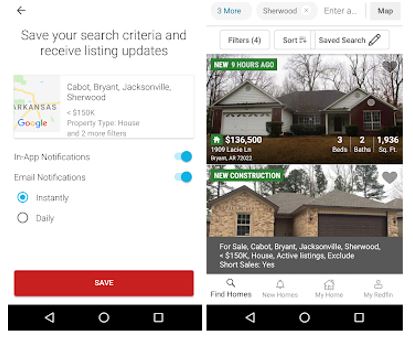 Remember me telling you that calculating the commute was my biggest issue? Well, Redfin allows me to input more than just one destination to commute. I can put in my wife's destination for commuting also and it is saved so it shows up on every listing at a glance. I can turn on the Rush Hour Commute or turn off the Rush Hour Commute. Let's be honest, I turned on the Rush Hour Commute for my purposes because either direction we go we're going to hit some form of it.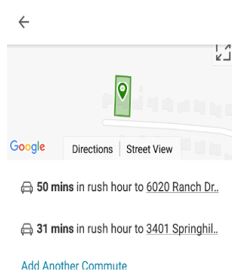 Redfin also has a feature where you can x-out a property which basically means it's still there, but you can quickly glance and see if you have already looked at it and decided that it is probably a listing/property that I'm not interested in pursuing. If you have your push notifications turned on you get status updates on when a property sells, if an Open House has been added, when there is a status change on a property, etc. I don't have to go back through my list because anytime a change occurs on my saved properties, I know about it, when a new property is added that fits my search criteria, I am sent a notification and email.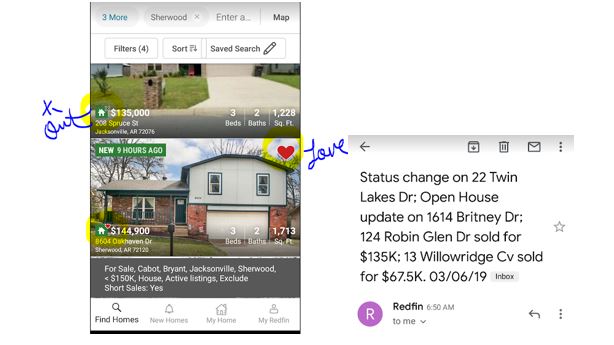 For Sale by Owners (FSBO) and New Construction are allowed to place their listings on Redfin so you aren't missing out on any houses that are available in the market area you are searching. Remember me telling you that realtor.com® shows you when an offer is made on a house and it changes status. Guess what? Again, Redfin nailed it!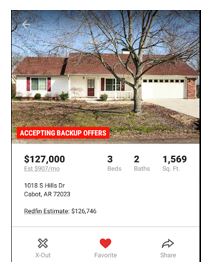 Zillow offers Zestimates and Redfin offers Estimates. The main differences between the two are how they are calculated. Redfin considers the List Price as well as pulling in Comps from previously sold homes in the area; instead of using a formula of user submitted data and public data to aggregate a number like Zillow's Zestimates. Which one is more accurate? Both are going to have errors which you need to keep in mind. The key word here is MORE! Which one is MORE Accurate? I will let you decide based on the information provided from Geekwire.com.
"The median error rate of the home - value estimate was 2.06 percent for Redfin, 5.95 percent for Zillow, and 10.26 percent for Homes.com." The Study was provided by the SSRS (Social Science and Market Research Firm) which evaluate over 5,000 home sales and found that 64% sold within 3% of the price predicted by Redfin. (Kurt Schlosser, Feb 2, 2017, https://www.geekwire.oom)
Another recent addition for Redfin is the Shared Saved Searches functionality. You can share your favorite homes with a co-buyer, agent (It will be a REDFIN AGENT or one of their Partner Agents), and friends and you can now extend that to sharing your saved searches. This is beneficial when you both work and have limited time. Consider it a shared workspace between you, your REDFIN agent, and your co-buyer. *ONLY one co-buyer and one agent.
Now the work around I promised you! This is also how you add friends. I added MY Buyer's Agent as a Friend, 😊 because well he is my friend! Now, MY Buyer's Agent (B. A.) can see my Shared Search, Shared Favorites, AND Comments along with my C0-Buyer and they can comment!!! This is by far the BEST feature!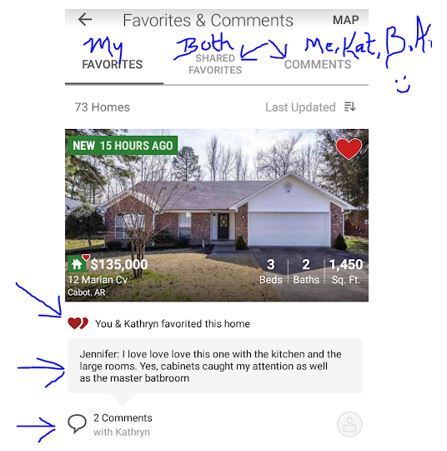 I have to say that being able to share my favorites with my spouse AND with our Buyer Agent allows us all to use our time more efficiently when searching for houses that we may be interested in making an offer on and ultimately purchasing. It works so well because Kathy may see the notification before I do and she can save it to her favorites and a message is then sent to me that Kathy has saved a new favorite with comments. I can then view the home that she likes and make a decision if I like the home also. I view the home and I like it too then it becomes a shared favorite. If we make comments on the home it is further filtered by our comments. It helps us narrow down the ones we like versus the ones we love! All the while my Buyer Agent can easily look and see what features are the most important to us and get a feel for exactly what we are looking for in a home. It's a WIN WIN!
Redfin blows the competition away when it comes to all the robust features and technology, including the accuracy of the information provided. They seem to be MORE Accurate! To learn more about all the Redfin App has to offer you can click on the following link https://www.redfin.com/mobile
Homesnap
Allows you to send your friends details about any home using messages. You can snap a photo of any home and see all the details. You can also search by location and filter/sort homes in the same way as the others. The upside of this APP is the ease of sending and communication via a private text message to your friends or even a way to send homes back and forth to your Buyer's Agent (Realtor®). The commute feature is a search feature that allows you to type in your address and search within 15 minutes, 30, minutes, 45 minutes, etc. of that destination. If you input more than one destination address it tries to pull back parameters that would be 40 minutes for the both of you and you don't get very many listings back when you search with multiple. This is a drawback for me. However, I do like that I can invite friends and share messages privately and comment on properties. This may be one I use in conjunction with one of the other sites as it does have this feature and it would allow me to readily communicate with my Buyer's agent and give them an idea of what we are looking for specifically. I like the private messaging feature of this one. It's a little more robust than Redfin's sharing feature which allows you to share with a co-buyer, agent, and friends and allows each to comment on a shared favorite. You can send pics, docs, attachments, etc, via the paperclip.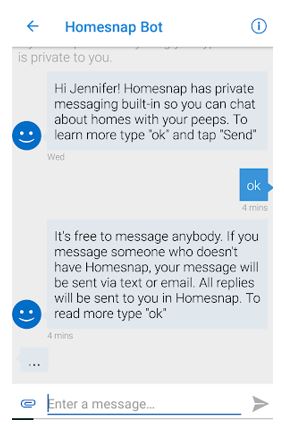 As you can see each has a good base of information, robust features, and chalked full of information. For me it comes down to functionality and what searches I can perform and draw back the information that I am most interested in. It's not a one size fits all. Me personally, I will be deleting 3 of the 5 apps and only using 2 Apps for my home search. Again, that's just because the one (Redfin) doesn't have as robust a messaging feature; so, I will be using Homesnap to bridge that gap with my Buyer Agent to allow for Private Messaging.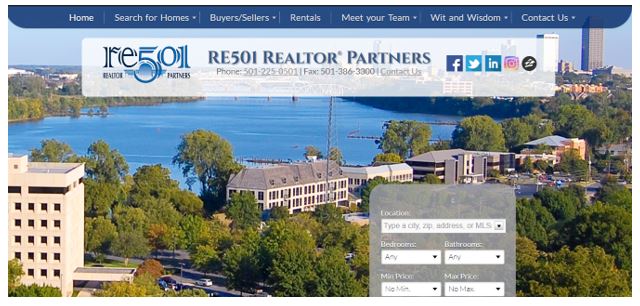 Now that we've covered all the APPS (at least the top-ranking APPS) in a home search. Let's talk a little bit about websites and the usefulness of a good real estate website. Things that you look for in a good real estate website are content driven. You are looking for Content You Can Use!
What are the things you are looking for in a good real estate website? Here's 6 Quick Tips!
#1 Pictures and Videos - A buyer wants to see plenty of pictures and video of a home's exterior and interior.
#2 Neighborhood Information – Most homebuyers are interested in the school ratings, tracking crime ratings, and income levels. This information needs to be there even if the numbers are not that great. It's all about giving the buyer's transparency and ultimately giving them what they want and need to make an informed decision.
#3 Informative Blogs – You want to give your website visitors information they can use. Information here can vary from trends in the market, jobs or population growth in the area represented, and the latest in community events.
#4 Expert Advice – Offering clients a home buying strategy or a home selling strategy. Things that you know from years of working in the area that will work to their advantage. You should establish trust in your online presence as much as you do a personal one.
#5 Market Information – Do not be afraid to share with your clients market information. Providing market information to your buyers and sellers is offering them an educational opportunity to learn as much as they can before buying or selling a home. How are sales trending? What's the average sales price or days on the market? This allows you to start building that relationship of trust on the front end.
#6 Choices – Offering your clients choices in what they see while on your website. While some of your clients may love that luxury property featured prominently on your website, not all buyers want that. Let's face it, not all buyers can afford that! Allowing your clients, the most up to date properties that are for sale, allowing them to search by neighborhood, filter by price, allowing them to run a quick search or a much more advanced search, and giving them all the pertinent information, you would want as a prospective buyer or seller in real estate. Give them choices!
We've come a long way since the early days of realtor.com® and we are excited about the future of technology as it transforms and shapes our industry. Our website at re501 Realtor® Partners embodies all 6 of these while offering a mobile friendly version of the website so that you don't have to have 5 APPS installed on your phone. There's no need for another APP!
All New Listings, All Open Houses, Quick Search, Advanced Search, Map Search, Benton Homes, Bryant Homes, Cabot Homes, Little Rock Homes, Maumelle Homes, North Little Rock Homes, Roland Homes, and Sherwood Homes Neighborhood Searches.
Buyers/Sellers Page where you will find articles regarding Tips for Buyers and Tips for Sellers, Homeowner Information, Title and Escrow, a Real Estate Glossary, and Mortgage Information
Free Market Analysis, Dream Home Finder, Little Rock School District Zoning Map allowing you to search by Address, Pulaski County Special School District Maps with a direct link to the school's websites with Principal Names and phone numbers, Real Estate News, Property Management Team, Agents, Staff, Core Values, Informative Blog Posts (LIKE THIS ONE), Contact Us, and Client Reviews.
Don't Miss a New Listing Again! Please share with all your friends and family
Let us quickly and accurately
assess your home's current value.

Easy home search broken down
by area and price.

Have a question? Want more information? Let's get in touch.
Jen Owens is the CRM Manager/Blog Author/Marketing and Media Manager at re501 Realtor Partners.